On Saturday the 27th March 1937, a party of around 20 men and women left Raunds on a pilgrimage to the battlefields, cemeteries and memorials of France and Flanders. The trip was organised by the Raunds Branch of the British Legion for friends and relatives of men who had fallen in the Great War some 20 years previously. The photographs included below were taken by a member of the party.

Leaving the town soon after 6.00am, they travelled to London by train from Wellingborough, crossing the city by reserved coach to Victoria. Onward again by train to Dover, they crossed the channel by ferry to Ostend, where a coach was waiting to take them to their hotel in Ypres.

The Hotel Continental was their headquarters for the weekend and they no doubt enjoyed their dinner and evening relaxation after the long, tiring journey.

The partly rebuilt Cloth Hall, Ypres: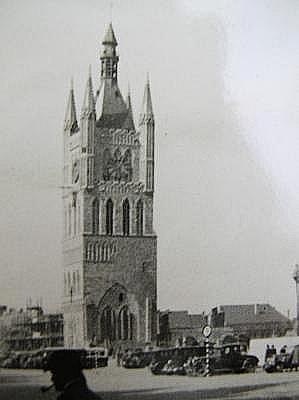 An intensive itinerary had been arranged for the following two and a half days. They set off at 8.00am on the Sunday morning passing over the canal where the Germans were stopped on the St Eloi Road in 1915, heading for Messines Ridge.

After pausing to remember that it was here the first Territorial Battalion engaged the enemy during WW1, they moved on through Armentieres and Fleurbaix arriving at Aubers Ridge.

Aubers Ridge – 9th May 1915 – a battle that left its mark on the 1st and 2nd Battalions of the Northamptonshire Regiment, for between them they lost hundreds of officers and men killed or wounded. Six Raunds and Stanwick men were killed on that day and the pilgrims duly paid their respects at the graves and memorials of the fallen.

The shortage of supplies during the early months of the war was again highlighted as a reason for the huge losses, "The Times" of the 14th May commenting that "British soldiers died in vain on 'Aubers Ridge' on Sunday because more shells were needed. It was not a battle but a massacre."

Aubers Ridge: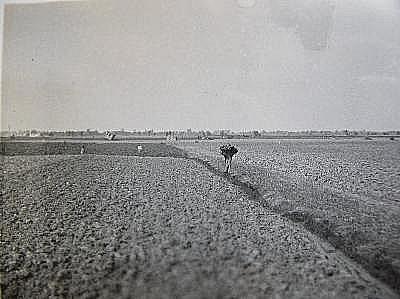 On to Neuve Chappelle – 10th to 14th March 1915 – great losses again for the Northamptonshire Regiment despite it being considered as a British success – "The Times" more bullishly reporting on the 19th April that "For the first time the British Army has broken the German line. It is a revelation of the fact that the much-vaunted German Army is not invincible." Again the pilgrims paused for reflection at the memorial to the battle remembering also the involvement of the Northants Yeomanry in the action.

Lens and the Battle of Loos – 25th September 1915 - was their next port of call and they visited the scene of the first use of gas by the British Army, recalling that this was not a particularly successful operation as an unfavourable wind resulted in numbers of our men also being gassed. Respects were paid to the memory of Captain Read of the 1st Northamptons who was mortally wounded here in the act of winning the Victoria Cross.

Vimy Ridge – 9th April 1917 – and the travellers heard how this was the only big position on the British Front that was captured and held throughout the war. The Canadians, accompanied by the 7th Northamptons, played a prominent part in the attack which took place during snow storms. By nightfall Vimy Ridge was in our hands. They visited the great Canadian National Memorial, unveiled not long previously by the Duke of Windsor, the reconstructed Allied and German trenches and the underground tunnels.

Canadian Memorial to the Missing, Vimy Ridge: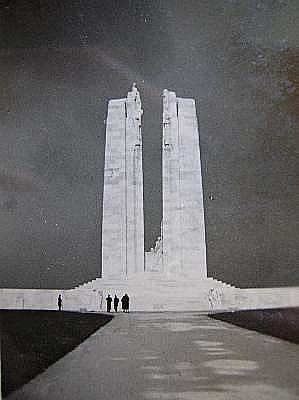 At the end of that first day they must have returned to their hotel weary and very reflective on what they had seen and heard.

Monday the 29th March again saw another 8.00am departure from the hotel, they travelled south via La Bassee and Lens to Bapaume, passed by Le Transloy (where the 2nd Northamptons were in action), to Combles (where the British and French armies met) and onward by the sites of Leuze Wood and Bouleaux Wood to Guillemont.

Guillemont – the 7th Northamptons had attacked here on the night of the 17th August 1916, Colonel Edgar Mobbs being severely wounded.

They moved on to Trones Wood – 14th July 1916 – The pilgrims heard how the 6th Northamptons and the 12th Middlesex captured the wood on this day. How an advance was made across 1000 yards of open ground swept by high explosives. The wood was a wilderness of fallen trees, thick undergrowth, trenches and barbed wire with snipers and machine guns everywhere. Terrific hand-to-hand fighting took place with Sergeant Boulter of Kettering winning the Victoria Cross. The struggle lasting for hours but by 10 o'clock the wood was won – a position previously considered by the Germans as impregnable.

From Trones Wood via Delville Wood to High Wood - the scene of an attack on the 9th September 1916 involving the 1st Northamptons resulting in 140 casualties mostly killed.

On through Courcellette and Pozieres to Thiepval, where the majestic Memorial to the Missing greeted them, no doubt producing the same feelings of great awe yet deep sadness then, that it still does today.

Here at Thiepval the 6th Northamptons had returned to action after a period of rest after their severe fighting in Trones Wood and took part in the capture of the position though not without considerable losses. 105 men were killed and a further 258 were either wounded or missing. The casualties including the C.O., Colonel Ripley, who died after having his right arm amputated.

Thiepval Memorial to the Missing: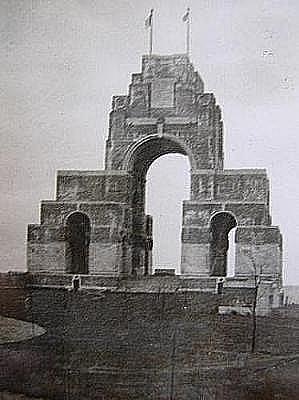 The final place of visit for the day was Newfoundland Park. It had been purchased by the Newfoundland Government as a Memorial to their fallen and left virtually untouched. Our pilgrims had time to wander around this inspiring area admiring the impressive Caribou monument, the Memorial to the 51st (Highland) Division and the tiny Hunter's Cemetery where 46 officers and men are buried in a shell hole, their headstones forming a crown round the top.

On Tuesday the 30th March, the travellers were allowed a lie in, not checking out from their hotel until 9.00am. Their destination was Ostend but en route they visited Hill 60, Sanctuary Wood and the "Big Gun" at Moere.

Arriving at the ferry port, arrangements had been made at la Notre Maison des Huit Heures for a leisurely lunch before boarding the 3.15pm boat for Dover. From then on they retraced their steps of the previous Saturday arriving back at Wellingborough station just before 11.00pm for their final journeys home.

==========================================================

It was March 1937, little could our pilgrims have realised then that just 2 years later, the world would again plunge into global conflict and that they would once more find themselves facing Germany and its allies in a bitter fight for freedom. So much for the war to end all wars!


The above account is based on the "Notes and Rough Sketches" produced by the President of the Raunds Branch of the British Legion. (RWMRG 11/2006)