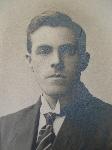 Arthur Roland Groom
Corporal, B/200443, 10th Battalion, Rifle Brigade
Formerly, Private, 29517, 7th Battalion, Bedfordshire Regiment
Born: Raunds, 16 April 1891, Died of Wounds: 9 March 1917
Buried in Grove Town Cemetery, Meaulte, France
Commemorated on his parents' gravestone in Raunds Wesleyan Chapelyard

Arthur Groom was born in Raunds on the 16th April 1891, the second of six children of Charles and Sarah Jane Groom, whose family home was at 25, Lawson Street. Arthur's father died at the early age of 51 in 1915, so was spared the emotion of losing one of his sons to the war. His mother was left to carry that burden.

He enlisted in the Bedfordshire Regiment at Ampthill in May 1916, with his best pal, John Brackley Higby. Although they were subsequently parted and Arthur transferred to the Rifle Brigade, both men died within 6 days of one another. The boys were engaged to two of the Barnes sisters from Woodford and to complete the trio of romantic couples, John's younger brother, Ralph, courted Arthur's sister, Edith (usually known by her middle name of Beulah). Ralph would also become a casualty of the war, killed in action less than two months after his brother and Arthur.

A prolific letter writer, eight of Arthur's letters or cards sent home between September 1916 and February 1917, survive. They reveal a thoughtful, intelligent man with strong Christian principles. This correspondence, and the other material included, is presented here, by kind permission of the Groom family, as a tribute to Arthur.

* The first letter, written on "Soldiers' Christian Association Camp Home" notepaper, is to Arthur's mother. He was still a private in the 7th Bedfords at the time.

29517, 7th Beds, 17 I B D,
S 17, A P O,
B E F France

14 Sept 1916

My Dearest Mother,

Knowing that you will be anxiously awaiting news of my experiences, I have to send you what little news I am allowed to pass on.

We left Landguard (Felixstowe) at 3.30 on Wednesday morning and arrived at Folkestone at 9.30am. At 12.30 we entered the boat for France. We were stationed at a very pretty place for one night at a rest camp, and this morning (Thurs) we again moved to a base nearer the front. My life seems to be getting harder and harder the nearer we approach the lines.

The place we stayed at on Wednesday evening was very beautiful. The scenery around was grand. We were perched right up on the top of a very high hill, with a fine sea view in the distance, but the wind was very strong and bleak. We slept in tents, on boards, with only one blanket. Of course we didn't take our clothes off. We should have been starved even had we the convenience so to do!

On Thursday we did nothing, but left at 2.30 for our journey here. John (Higby) has not come with me but I am glad to say I have found another splendid chum. He is the husband of the woman who stayed for the weekend at the same lodgings as Gladys (Barnes) at Felixstowe. Gladys will tell you about that. We are similarly placed as far as they go. They got on well together and no doubt we shall too. We are together now at a religious meeting in a Soldiers' Christian Home.

Harry Finding left this camp for the lines two days before we arrived, so now, poor boy, I expect he is in the thick of it.

Let me know about Raunds, about my old Co-Op mates, and how they are getting on with their exemption claims, when you write. Please do so as soon as possible.

I hope you are all well. Don't worry – but have faith, as I have.

God bless you all, Your loving son, Arthur, xxx

Ed - Harry Finding was killed in action 11 days after this letter was written!


* Moving on three weeks, Arthur describes the hazardous life near the front line. However, his civilian skills as a clerk at the Raunds Distributive Co-Operative Society have already given him the opportunity to secure a position superior to that of the ordinary tommy.

Oct. 6/1916

My Dear Mother,

I trust you have not been greatly concerned because of the slight delay in my letter. Since Monday evening we have been moving toward the trenches and that is the cause. We have not actually been in the front line but very near to them; too near in fact at times to be comfortable. I believe, however, that we are being relieved (this evening) and going further back again for a little time, so that we shall not be quite so near the danger zone.

Our most trying experience out here so far is marching about from place to place. The roads are in a shocking condition, partly because of the tremendous amount of warfare traffic that goes on. When coming here we had to wade nearly a mile in mud which at times was nearly two feet deep.

I am very pleased to be able to say that I have been placed in a new position. I am Assistant to the Quarter Master Sergeant when in camp; that is the same job as Frank has. I also assist the Company Sergeant Major as well so that thereby I expect to escape some of the unpleasant duties that fall to the lot of the average soldier.

I get on better now as regards food and shelter and that is a large consideration. It means that I have been placed with fresh men for working but they are very considerate towards me so far. I trust that on the whole all will be for the best and that it will help me to the better come through these trying times and place me happily at home once again.

I shall have many interesting and other experiences to tell you of when the war is over but that is reserved for another time. I hope you are all well. Kindly remember me to all enquiring friends.

Best Love, Arthur, xx


* Six days later, Arthur sent a picture postcard of the church at Mailly-Maillet (in the heart of the Somme battlefields) to his sister Beulah. The place name has been pencilled out to pass the scrutiny of the censor. For students of postal history, the card carries a "Field Post Office" cancellation dated 14 October 1916 and a "Passed Field Censor 2155" mark.

On Active Service

12 Oct 1916

My Dear Sister,

I am afraid you will think me unkind for not dropping you a line before but if you quite understand my circumstances you would not be surprised that I hadn't quite managed to find time. We have to take every opportunity we get for a minutes rest. Things are a little better now. We have been staying at a nice quiet little town during this last four days. The weather is fairly good considering but it is getting very near Xmas now isn't it. Are you busy? Please remember me to all not forgetting Bernard and Wilfred. Best Love Arthur


* Ten days later, his sister was sent another picture postcard, this time of the railway at Ailly-sur-Somme, thanking her for a parcel of essential supplies. Again the place name was obliterated. The cancellation, though less distinct, is again "Field Post Office" with the "Passed Field Censor 2155" mark.

26/10/16

My Dear Sister,

I must thank you for the bags of camphor and sulphur that you so kindly forwarded to me. They appear to have answered their purpose admirably. I have worn two myself and distributed the others because they only last a certain time in any case and need a fresh supply. In my letter to Syd I asked him to forward a flash lamp. Please tell him not to do so now as I can get them in the place here. You might send me a few cheap novels out instead. I find some time for reading. Fondest Love, Arthur x x


* On to the middle of November and a letter from Arthur to his mother "and all" as lack of time had prevented him from replying to recent letters from his sister and brothers. Everyday concerns of life at the front are evident, a move nearer to the front line is imminent but he tries to minimise the family's concern, the joy of receiving parcels from home but also the practicalities of what then to do with the contents, the hope that his brothers will continue to avoid having to "do their bit", and the personal satisfaction of a promotion. To close, the strength of his faith again emerges and there's also a nice "PS"!

14 Nov 1916

Dearest Mother and all,

I write to include you all at the present moment because I haven't just now time to reply to the letters I have received this week from Beulah, Syd and Cyril. I will do as soon as convenient.

I am sorry to have to tell you that we are again moving towards the line. We do not expect to be in before the 24th or thereabouts, according to rumour, but we shall be waiting our turn.

Please, therefore, do not "get the wind up", as we say out here, if you do not hear from me as frequently as you could wish. I assure that I write as often as ever I possibly can and I have a large correspondence to keep up.

I was very pleased to hear of Cyril's and Bernard's good luck. It is also satisfying to know that most of you are still safe – and happy I trust – in the dear homeland. I am indeed in lucks way as regards parcels this week. Yesterday your wooden box came to hand and (though much overdue) your other one today. I also received one from Gladys (Barnes) as well. In a sense I am sorry that they should have come together because we are moving tomorrow and I shall have to carry most of the food things with me. Happily I think we are going by motor bus so it will not be as difficult as if we were walking. Please give my thanks to all kind friends who helped to fill the parcels. I have written to Mrs Abbott personally. Her sponges were good.

It may please you to know that I have today been promoted to Acting-Corporal (Aclp) and you must address my letters thus in future. I had to go before the Colonel this morning and he informed me of the post. It has taken me a long time to get my feet on the first rung of the ladder, but it has come at last. I am pleased to be able to say that my new position gives me advantages as far as food and clothing is concerned but I am grateful for Syd's offer to forward me anything I should like.

I hope the boys will be fortunate enough to obtain yet further extensions or else that this conflict may speedily be brought to a satisfactory ending.

I hope Mother dear that you not worrying overmuch about me. Do not try to carry all the burden on your own shoulders. There is a higher power than ourselves, who never sleeps nor tires, who is continually watching over us. In him I abide and hope to continue to do so right to the end. I send my best love to you all,

Your loving Son, Arthur xx

PS – I enclose another 10 franc note for you to put to my Penny Bank a/c please


* It's now Christmas 1916 and Arthur sends his mother a few words on a postcard to let her know that he's still OK. The postcard is of Amiens Cathedral, postmarked "Field Post Office 72" dated 28 December 1916 and carrying the "Passed Field Censor 51" mark.

On Active Service

26/12/16

Dear Mother,

Just to let you know I am still alright. I received your parcels and papers. We are having a goodish time this Xmas. I hope you have not been too lonely without us boys. I had a letter from Cyril a week ago, also from Bernard yesterday. Please give my best love to Grandma and all other enquiring friends. Best Love, Arthur xx


* Another postcard to his mother followed in early January 1917 containing the usual reassurance as to his well being, a hint of the weather conditions and a cryptic enquiry about his brother's apparent forthcoming nuptials! The picture is of Corbie, on the Somme, again with an attempt to obliterate the place name. The postmark is "Army Post Office R.20" dated 12 January 1917, with an accompanying "Passed Field Censor 51" mark.

11/1/17

Dearest Mother,

I am still in the land of the living, doing pretty much as usual. The weather today is rather winterly (snow falling). What is this rumour about Cyril and Grace? Evidently they don't want me to come as I have not received an invitation. I wish them every success. What about Syd now? Is he more settled now? I trust you are all well – especially yourself. Best love to you all, Arthur


Moving on to mid-February and the last correspondence in our collection is a letter written to his mother less than three weeks before his death. He spends little time concerning his own circumstances other than noting the warmer weather and the resulting return of the mud. Instead he reflects at some length on the lasting memory of his father and wonders how his mother has coped so well since her loss. The recent fire at Stanley's factory is also mentioned, as is his youngest brother's latest escapade.

19/2/17

Dearest Mother,

I need not tell you that no-one's letters give me greater joy then yours. I received another of them yesterday. I am so pleased you still continue well. You must have a good store of reserved energy somewhere to enable you to hold up so well, considering what you have been through these last two years.

It must have been about two years about now since we were considering Dad's going up to Northampton. How quickly the time seems to have gone since then now that we come to look back.

Poor Dad! the memory of what he went through during those four weeks haunt me still. I shall never forget his last look at the hospital when he said, "ah! I shall never come here again". Alas! how true his prophecy was. I often find myself now dwelling upon our experiences during that terrible time.

I often wonder whether he knows anything of what is happening here now. I cannot satisfy myself about it. But I hope he doesn't. These times are too terrible to wish the departed to know about. I like rather to think of him enjoying the peace he so much deserves after such a strenuous life and love and service to his fellow men.

I know you miss him so much mother even though you say so little. Doubtless the recent wedding was one of the times when you wished especially for his presence. In some senses it does seem such a shame that he should be deprived of the pleasure of seeing his children grow up and filling the honourable positions in life which he so much desired them to do.

There are, however, so many things that appear mysterious to us now that will seem clearer by and by.

I was not altogether surprised to hear of the great fire at Stanleys. If he has continued to carry on since I left as he did before, it was quite the natural and expected thing to happen. Poor neighbour though. I guess Mrs XX was in a panic. The innocent usually have to suffer though. Whatever would XX have said? What of the big chimney? Suppose that still stands.

I have received parcels from S Wright and Mrs Abbott today.

Pleased to hear of Bernard's skating feat. I should love to see him again, indeed all of you so much. But he is the youngest and last of us all I think.

Did you receive my last note? I wonder. Your letter would be posted too soon to acknowledge it. I am going on about the same personally. I cannot tell you more. The weather is not now quite so cold but the mud has appeared again and the boys have a rougher time in the trenches on that account.

I hope all relatives are well, including Grandmother etc.

Fancy Uncle Jim, Isn't he a discontented fellow.

Fondest love,

Your affectionate son,

Arthur xxx


* Nineteen days later he died of wounds received, but no letters or cards have been found for this period.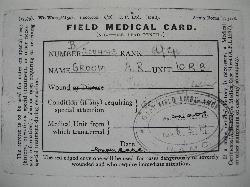 Arthur's "Field Medical Card" showing that he arrived from the 61st Field Ambulance on Thursday, 8 March 1917. The "Wound" and "Condition" sections suggest that he had multiple gunshot wounds (GS.4 ?). On the reverse it records that he received a quarter of a gram of Morphine at 10.50pm with the added remark "will not require redressing for ? hours."


* * * * * * * * * * * * * * * * * * * * * * * * * * * * * * * * * * *

Arthur Roland Groom
16-4-1891 to 9-3-1917
May you continue to rest in peace