Few Raunds men found themselves facing the Japanese in the Burmese jungle during the 2nd World War but this was the fate that befell the young Dennis Mansbridge.

Dennis' military career began in the early 1940's when he was called up to join the Royal Artillery and sent to Aldershot for training. His instruction included jujitsu, probably an indication that he could be heading to a theatre of war where expertise in hand to hand combat might just be needed.

His initial training complete, he and several other thousand men were transported north to Glasgow to board ships for the Far East to become part of the 14th Army. The reality of war was starkly brought home to him and his shipmates when they later learned that of the three ships to leave Glasgow that day, only theirs had got through the cordon of enemy submarines. On arrival in Calcutta, they made their way towards Nepal through Assam to Imphal.

The 14th Army was comprised of units from many Commonwealth countries, although the majority of men came from the Indian or British Army, the participation of divisions from East and West African units was not insignificant. The commanding officer, Lieutenant General Slim, even had some dotted line control over Major General Orde Wingate's Chindits during early 1944 as they carried out their covert operations behind enemy lines.

Driver Mansbridge, now attached to a Gurkha regiment, was usually engaged driving troop carriers or jeeps, and during "rest" periods he also acted as the Colonel's driver. The 14th Army first tried to advance into Burma but were driven back by the Japanese counter-offensive. The enemy's intention was to isolate Allied forces at Kohima and Imphal and then destroy them. Although our troops were cut off for several months from direct supply lines, successful air lifts of supplies ensured that eventually first Kohima and then Imphal were relieved. The Japanese suffered a crushing defeat, with over 85,000 casualties as sickness swept through their ranks as their supplies ran out.

Many of Dennis' comrades died during those perilous months and he himself nearly perished when he was bitten by a poisonous spider during manoeuvres up in the mountains. Happily he survived but the episode left him with a blood problem for the rest of his life.

On a more cheerful note, he celebrated his 21st birthday in Burma and was surprised to hear a radio broadcast all the way from Northampton in which his father not only wished him a happy birthday but also informed him that a piece of cake was on its way to him. Sure enough, some two months later the cake arrived and despite its age, it was eagerly consumed.

As few as three Raunds men were awarded the Burma Star, Dennis Arthur Mansbridge was certainly worthy of his.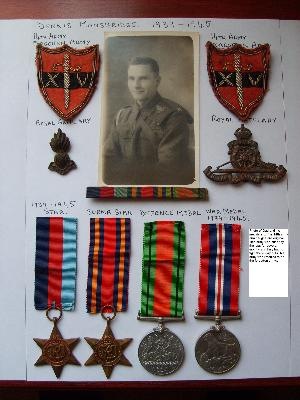 Dennis Mansbridge and his decorations, the Burma Star is second from the left.

We thank David Mansbridge for sharing with us his recollections of his father's wartime experiences.