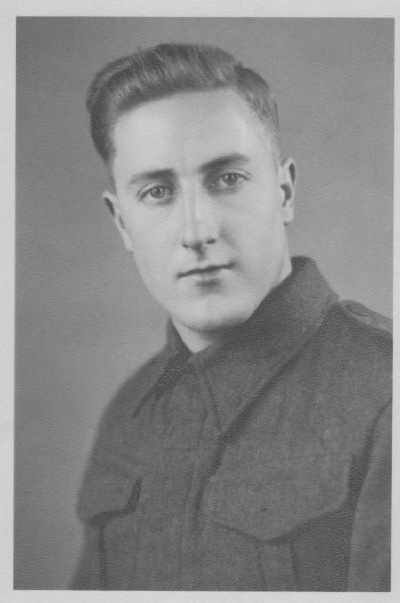 In July 1943, Ivan Summers, just 18 years old, received his call-up papers and off to war he went. However, unlike most other young men, Ivan decided to record his experiences in a diary that he kept secret from all.

The diary was only discovered recently by relatives and they have kindly allowed us to reproduce here, in regular instalments and in his own words, Ivan's personal thoughts and experiences of his 4 years serving King and country.

So read on and enjoy ..........................

July 1943 – I was just 18 years old, I received a letter through the post, my call up papers. My mother stood on the back step of 2 Clare Street, Raunds, with tears in her eyes.

That which follows is not a tale of heroism or of ego-ism, but a factual but brief account of what followed for me. I was lucky, thousands were not, and I include all those who weren't, bomb victims in London, Coventry and all the other cities and places, those kids in Rushden School, ad infinitum.

However, in this small village of Raunds, a lot of my beloved friends didn't come back (they were the friends I had known all my life) and I still remember them all with love and often refresh my memories at the cenotaph.

It is to them that I feel justified in writing my memoirs – those unforgettable friends who never came back:

Fred Bailey, Cyril Clarkson, Ivan Coles, Jack Sheffield, Cyril Eyles, Brian Patrick, Ken Johnson, Cyril Dudley, Derek Walker, Colin Duffy, Keith Webb and Harry Prentice.

There were of course many more from Raunds who lost their lives, but all of the above were my old school mates, with one exception, Jack Sheffield, who was an older friend.

Part One – England, Wales and Scotland – July 1943 to June 6th 1944

Basic Training

Maidstone Barracks (Queen's Own Royal Infantry)

Memories: Being kitted out; shown billets; F.F.1 "Inspection"; inoculations (feeling lousy afterwards); vaccination (large "egg" lump under armpit afterwards); that bloody bugle at reveille; homesick; bull-shit; parades; learning drill; rifle drill; kit inspections; laying bed out; spitting on boot caps to get a shine ; PT every morning; queuing for grub; fire drill lectures; incessant parade ground drill (sometimes with regimental band); weapons training; grenades; Bren-guns; other "bakelite" grenades with throwing handle; long hot sweating route marches with full battle order and sometimes wearing gas masks (we used to pour sweat out of them afterwards – it was July!); aptitude tests; reaction time tests; night time schemes where we used to crawl on our bellies through grass in the dark; getting to know friends, scroungers, malingerers and others!; the dear old "NAFFI"; bayonet drill – where we had to charge and stick straw bags, all the time cursing and shouting; rifle range firing; passing through gas chambers with no mask on (my bloody eyes were sore, couldn't breathe after); church parade (voluntary of course, but if you didn't you were put on fatigues – bloody blackmail!); guard duty; complete bull-shit; fire drill guard; assault course.

Then on to AA Training Camp at Mablethorpe

3.7" H.A.A. Training Regiment, Royal Artillery, Trusville Camp, Mablethorpe, Lincolnshire (an ex holiday camp)

Memories: Much less bull-shit than at Maidstone; billeted in chalets; guns; predictors, height finders; spotting equipment; rader etc on large square; trained here as predictor no. (at this stage on Speery equipment), intensive training but quite interesting; lectures; aircraft identification – both ours as well as German for obvious reasons; guard duty; PT; long runs; nice little café on site; good lot of blokes; good sergeant; Mablethorpe itself very quiet, almost no people there other than those who lived there; no access to beaches as these were obviously mined with tangled defence obstacles everywhere; went on a run to Sutton on Sea where we saw rocker missiles being fired, quite a firework display; dental treatment, the finest I have ever had, in a large sea front building just "seething" with dentists; told our next move was to a firing camp, and at the back of my mind at the time was the question "what sort of 'noise' were these big guns going to make?"; given an insight in the role we (as a mobile A.A.) were to play, for example, we would have a dual role, we would be used when required as field artillery firing air-bursts, ie the shells would be fused to explode just feet above the ground, and were told that this was terrible for those on the receiving end as slit trenches offered no protection; all in all this period wasn't too bad at all.

Then on to Firing Camp in Wales

New from here on 17 December 2013:

3.7" H.A.A.Firing Camp – Sited at Tonfaunu, a large established camp overlooking the sea in the middle of Cardigan Bay, nearest town Towyn – quite isolated.

Memories: Large camp with "fixed" billets, cinema, NAAFI, ATS Girls!; isolated position on sea shore with wide beach area with 3.7's and equipment pointing towards the sea; disconcerting to find that we had been trained on Speery predictors, but here they were bloody Vickers, so we had to do a crash course; I was Vickers No.4, ie I had to predict (literally) by instruments and quick judgement where the plane would be when the shell reached it, then shout the appropriate fuse out, which was relayed to the guns, the shell was then fused and loaded into the gun and again fired at the exact time, after all other relevant information was computed. All of this was done very quickly; the guns had quite a loud "crack" due to the high muzzle velocity necessary to hit a target moving at 300 miles an hour!; fired every day at our allotted time; the target plane (towing a sleeve behind) wasn't hit, but neither was the sleeve very often!, although to be fair we were very close, and the fragments unseen from the ground would have probably brought a plane down; went to Towyn, very nice little place, lovely walk in big hills near coast; people friendly but reserved; kids 3-4 years old could speak Welsh and English!; attended village concert, those Welsh loved their singing; one snag, although it was summer, it pissed down with rain nearly everyday; sea b***** rough; spent a lot of time unloading shells; used to have some good laughs at night in the large NAAFI with ATS girls; all in all not too bad.

Then on to …………..

3.7" H.A.A. Training Regiment – Arbourfield, near Reading, this was an extremely large permanent camp where we started the rough "mobile" stage of our training.

Memories: Real security at this camp, bull-shit military police at gates; good grub; permanent cinema-come-concert hall; guard duty and drill, PT, fitness games, fatigues (spud bashing etc), church parades with band, however, mobile was now the word; became very acquainted with big matador lorries which towed the guns, and all other mobile aspects; we trained to dismantle and set up our predictor (which was very heavy) in as quick a time as possible, to lift it on and off its lorry, align it with the guns etc, all items were connected by cable with the guns, as our predictor revolved following the target through built-in scopes, one for angle, one for bearing. The gun appropriate No. traversed his gun by following the pointer on his dial, but this after the windspeed, speed of aircraft, angle, and bearing had been computed by our predictor, in conjunction also with the height finder and radar. In radar engagement at night we had to follow their cabled instructions and then it was computed and passed on to the guns; we started on schemes now; simulating active service; weeks away at a time; sleeping on the ground or in the backs of lorries, piddling with rain at times; called out to move in the middle of the night; shaving out of a mug; hard tack rations; helping to shift matadors and other lorries stuck in the mud; guns had to be winched up awkward slopes, sometimes at a precarious angle; mock alarms at any time; night or day, simulating engagement of aircraft or field air bursts etc; I remember some chaps saying "if we can stand this we can stand any bloody thing"; but oh the poor bloody infantry!; during these schemes various towns we passed through during movement included Ascot, Windsor, Wokingham; we did one long scheme in which we deployed for several days at Thorpe Bay (near Southend, which we managed to "slip away" to one evening); whilst here I was one of small detachment sent for nights' guard duty to nearby Foulness Island, which I believe was used as a firing range. It was connected to the mainland by a narrow causeway; it was a bleak place, not enhanced by the equally bleak, pissing, wet, cold weather, we thought Foulness was aptly named; back at camp I remember we were always ravenously hungry here, but there was always plenty of grub to satisfy it; we visited Reading a few times and quite liked the place; we were now coming to the time for our posting to our permanent regiment; but one memory has stuck with me vividly ever since.

It was at a camp concert at the brick built cinema-come-concert hall, there was a dance troupe of some high standing, plus accompanying artists, billed with a rather top class implication, consequently almost all off duty personnel (including myself) and top camp brass attended. The concert hall was hushed as the curtain was raised, excited with expectation, then we realised it was a ballet company! At first it was quiet as the artists performed, but as it progressed there were growing signs of discontent amongst the less artistic members of the audience when one "wag", who couldn't stand any more, shouted a most indiscreet remark! That was it, before long it was uproar, every move these poor dancers made was greeted with ribald shouts, when the well endowed male dancers seemed to be in compromising positions with the females, there were shouts of "get in there mate!", followed by raucous laughter. The slightest movement by the girls were greeted with "cor – look at that!" etc. The officers were furious, they rose from their seats, glared, but were powerless. The dancers were almost in tears, they cut the performance short accompanied by shouts and order was only restored when they sent a buxom lady on to sing a little negro spiritual. This great hearted lady continued for the rest of the evening, winning over the audience with her personality, she saved the day, but not my conscience. The ballet troupe never returned and I felt really ashamed, they had after all given their time to help us. Afterwards, on reflection, I blamed whoever booked them, fancy sending a ballet company to a bloody army camp full of raw recruits anyway!; the remainder of my stay here was much as before; a mixture of AA training, schemes, lectures and PT, leading to the posting to my first regiment, who were at the time stationed at a firing camp at Weybourne.

New from here on 2 January 2014:


Weybourne – an Artillery AA Firing Camp on the Coast near Sheringham and Cromer – my regiment now was E Troop, 324 Battery, 103 H.A.A. Regiment, Royal Artillery.

Memories: Arrived here heading towards winter, and it was an exposed, isolated camp; a cold, bitter wind mingled with rain was out lot whilst here; large camp; good cinema; good NAAFI (tombola mad!); billeted in Nissan huts with large stoves in the centre, around which we used to huddle; now my training regiment days were over I found the atmosphere different; I was now with an established regiment where the fellows were older than me, and who had been together for longer; this was where I found lasting mates; everyone knew everyone else; cooks, gunners, height finders, spotters, predictor numbers, drivers, radar, officers, sergeants, bombardiers – a damn good lot of chaps; Londoners, Scousers, Geordies, Brummies etc; our major, however, was a rather unhumorous, thick set type of geezer, with a moustache, and a Japanese look about him, hence his nickname – "Tojo"; our captain, named Harrapp, was a good non-bullshit type who played the clarinet in a broadcasting name band in his civvy days; as the regiment was here for a short period only, most of our time was spent on practice shooting; general duties; guard duties; getting to know the ropes"; interviews with "Tojo" etc; in general being "summed up"; I did on off duty periods visit Sheringham (which I found a quite nice little resort), and Cromer, but I found that place most depressing and drab; hardly any people about and the few that were, were bloody unsociable (those we saw); eg, there was a lovely little sea-front café, and being sodding hungry went to go in, but pulled up short at the door where a large notice read "Dogs and Troops Not Allowed!", that really made us furious, but it was reflection of the general atmosphere in 1943, needless to say we only went there the once!; came the order to move; Scotland was the destination; after packing all our gear on our appropriate lorries, the long convoy slowly got under way, like a long, curling snake.

Convoy to Northern Scotland and stops on the way:

Longest single journey so far, good views of towns and countryside from the back of our lorry; first stop was Doncaster; convoy parked literally on the racecourse!; sloped off to Doncaster for a drink and look round; moved off again next day where our next stop was Carlisle; our park was "Hadrian's Camp"' a large transit camp; there was an adjoining Italian P.O.W. camp and we saw a lot of those who were "employed" doing maintenance work; we stayed a couple of days here and had a look around Carlisle; had a few pints in the pubs which were state-owned (the only ones in England I believe), rather austere but OK; then on we went over the border to Scotland, where Wishaw was our next stop (a few miles from Glasgow); we were informed of our departure time the next morning, and whilst having a "deck" at Wishaw, my mate and myself were invited by a family to stay the night at their home; they were just an ordinary working class family who lived in a row of terraced houses on a steep hill. They gave us a good supper and breakfast and were very kind warm-hearted people; I found this friendliness wherever we went in Scotland and can't speak too highly of the Scots, what a contrast to some southern counties we passed through!; we moved on next morning travelling north passing through Stirling, followed by Perth; a quite magnificent journey through what I would imagine was some of the most beautiful scenic countryside in Scotland.

About 15 miles further on from Perth we started to "hit" The Highlands; hills gradually became mountains, I was really rather "awe inspired" as these (although dwarfed by the Himalayan range in India) were the biggest I had ever seen; next stop was Blair Athol; we stayed here for almost a day and night, in a delightful setting, rather like a Canadian lumber camp atmosphere, a clearing surrounded by conifers and large hills; we were almost in winter now and the air was clear and crisp; the next stage was the mountainous yet; the weather had deteriorated and we wended our way on winding roads through the Grampian highlands; then the Cairngorms and Monadhliath Mountains (I think we were in the middle, with peaks on our right and others on our left); what a sense of wilderness and starkness this journey imparted to me, snow higher up, bleak, hostile and yet rugged beauty, quite unforgettable; through this and we were once again in a green belt approaching Inverness.

Went round Beauly Firth, on to Dingwall; on alongside the Cromarty Firth, through Invergordon, then on to our destination and main camp (until further orders) which was town called Tain, on the southern bank of Dornoch Firth; we were billeted in a wooded area on the outskirts of Tain in wooden huts, and were both happy and sorry our journey had ended; happy because we were a bit travel weary from sitting in the back of open lorries; sad because we were back to "bull-shit"; guards, parades etc; apart from the latter we spent a lot of time at first cleaning, checking equipment etc; then in a matter of days several of us were summoned to the battery office to be told we had been selected (in common with other units, infantry, RASC etc) to be temporarily posted to a large tented camp during the winter to be deployed helping unload supplies (food, ammunition, clothing, weapons etc) for the various regiments who were training in the area, including commandos doing assault craft landing; these supplies were to be unloaded at a rail-head depot; we duly collected our gear, into lorries again and arrived at our destination, a large, tented, cosmopolitan camp, which was commanded by an infantry officer; this camp was on the Black Isle, about 20 miles south of Tain, just outside a village called Munlochy.

New from here on 13 January 2014:


Munlochy

Memories: Camp on a sloping hill looking down on Munlochy; bloody exposed; one good thing, lack of bull-shit, due to workload; snow most of the time, although interspersed with better days; tents not warm; NAAFI in village, small but nice, as again were the Scotch girl servers!; every morning after (bloody cold shave) breakfast etc, went on parade for day's detail of duties; busy, hard lifting work at the railhead, but we didn't mind, it kept us warm and we were fit; used to stand at times in line, passing containers, ammo etc to each other; heavy lifting required concerted effort; good set of squadies, all mucked in, no slackers but the inevitable scrounger!; "lend us a bob mate, give yer it back on pay-day" etc; social amenities in camp were non-existent, but on off duty periods we did have "liberty wagons" to various places; and we also used to roam around the gentle slopes overlooking Munlochy Bay; quite nice with the weather and bracken; we used to go to Dingwall for fish and chips and a night out, this was a busy little pleasant town, and one of our favourites; we went to Fortrose on detail one day, and felt quite a sense of "Old Scotland" here - lovely place; we went several times to Inverness, which was only about 7 miles as the crow flies, but we had to travel 20 miles to reach it because we had to go round Beauly Firth, as at that time there was no road bridge over it; Inverness was a lovely city, the people friendly (they wouldn't even charge us for bus fares!); one slight hiccup, four of us missed our liberty wagon back one night and in a "sweat", we managed to get a bed for the night at the Seamen's Mission hostel near the railway station; the Army came for us next morning and we were immediately put on a "Fizzer" (my first of several!); "cap and belt off, left roight, left roight!"; the c/o with a rather kindly personality gave us 7 days C.B.; what a bloody laugh; we were out at work all day anyway; and we still went to Munlochy NAAFI every night.

It was while here in this camp that I had two bits of bad news from Mum; the first was that dear old J P Archer, my piano teacher and beloved friend, had been killed by a bus on Stanwick Road near Chown's Mill turn off; the other was that an old school friend (who was only about 16) had been found gassed (by geyser) in his bathroom at Rushden, his name was Jeff Smart, brother of Clive and Stan.

Winter drew on so we welcomed the news that "Stars in battle dress", a top class army entertainment group, were coming, billed to appear in the small village hall in the tiny village of Munlochy; in the morning before the show was due to start in the evening, I had a slice of luck, I was one of a detail sent to get the hall ready (clean up, seating arranged etc), it was a rather dismal, damp morning, and when we arrived at the hall I immediately spotted the piano on the stage, having not played for a long time I jumped at the chance and had quite a "bash", when I had finished I looked around and found there were other people there besides my mates, the entire cast had walked in and were listening; one of the leads was Charlie Chester, the comedian, he was rather a dapper little chap, dressed in an old greatcoat with the collar turned up, he came up and asked "what medical group are you mate?", when I said A1 he replied "pity old son, we could do with you with us, but I'm afraid you don't stand a chance of a transfer, now had you been B1 or less, you might have had!"; we all had a good old natter with him and the other members of the cast; Charlie seemed a bit depressed, he had a rotten cold; however, this didn't show in the evening, the small hall was full both with squadies and I would say all of Munlochy too!; the show was just about the best I had ever seen, my belly ached with laughing; absolutely unforgettable; that Charlie became a household name on both TV and Radio in later years, doesn't surprise me in the least.

Back to the grind; spent a lot of the winter here, and we were very thankful for our leather jerkins which were both warm and comfortable; then came the order to rejoin our unit, which had moved on from Tain to the county town (or city?) of Dornoch, the county town of Sutherland, situated to the north of Dornoch Firth.

Dornoch

Memories: A beautiful place, not large, overlooking Dornoch Firth, with a large main square, lovely cathedral, famous golf course with a railway running alongside; quite a bit of history attached; we were billeted in an empty large country house situated on the slope of a hill; the scenery was marvellous; after a reunion with mates we settled into routine; drills (a bit of bullshit), guards, instrument drill, rifle firing, route marches, maintenance etc; on off duty hours we roamed around the golf course and surrounding countryside; no social life at all, I can't remember any pubs, so we had to make our own; one really bullshit church parade, complete with band, although it escapes me where this came from!; marched through the city, lined with locals, orders being bellowed out, culminating in a service in the cathedral; it was this that made it all worthwhile, such a beautiful work of art; I believe it was burnt out in years gone by and had to be rebuilt, such a landmark for miles around; a couple of weeks passed and we were "up-ended" again, and the whole battalion moved to a large clearing outside of Dornoch, where we pitched tents; in this almost uninhabited wooded area we were told that we were going right back to southern England, and that our short time here was to be spent on preparing for the journey; thus cleaning and checking equipment, loading etc, became the order of the day.

We were now in January 1944; just days before the regiment was due to move, my name came up on battery orders that my 9 days leave (which I knew was pending) was granted; I was summoned to B.H.Q. and was told that I would, at its expiry, rejoin my unit who would then have moved south to Horsham; thus I missed that long return convoy; I was, in a way, sorry, because it had been such an experience on the journey to here; however, I was thrilled to be going home; it's a good job it was 9 days leave, because it took me 30 hours to get home!; we (two of us) started at a place near Dornoch called Bonar Bridge, the date was 16th January 1944, and it was a frustratingly slow lot; we had to stop to have an extra engine coupled at steeper gradients, one in front, the other behind; had to change trains three times at various stages of the journey, including one damn near all night wait at one station in this cold January weather; however, we made it eventually – 30 hours!; had a good leave with Mum and all the family, but the time "flew" and before I knew it I was on a train at Wellingborough station bound, via London, to rejoin the regiment, now at Horsham.

New from here on 27 January 2014:

Horsham (Sussex)

Memories: A busy town, slightly larger than Rushden, just over halfway between London and Worthing; found my regiment; a large, tented camp on the far southern outskirts (just one of many others in the area); after reunion with the lads, made bed on the bloody floor and had look around camp; it was a large site, usual amenities, ET tent, NAAFI, large marquee for concerts etc, and a large area for guns, lorries, equipment (and not just ours!); it became obvious on later saunters around Horsham why we were here, the place was crawling with servicemen from all different regiments (infantry, paras, artillery, RASC, REME, Tank Corps etc), this was the big build up and we guessed what it was; much of the time here was spent on maintenance, gunnery drill, PT rifle shooting, marches, a bit of manual graft, lectures and several small "active service" mobile schemes; grub was good; had a bit of a "guzzle" in Horsham pubs; went to the cinema a couple of times; one marvellous concert (for troops) in Horsham, where Harry Farmer, a top BBC electronic organist, was top star, and boy could he swing – top rate!; whilst here, places we went to either on duty or "local leave" included Gosport, Portsmouth and Farnham; I did also "slip away" on off duty weekends to London with my friend Eddie Lester; we took a real chance by so doing, by both getting past the MP's at Waterloo Station; had there been an order to move, or a camp check up, we would have been "in the shit", but we were lucky.

Eddie lived in Stepney, off Commercial Road, Aldgate and we took the underground to his home in Humberstone Street; this was real London (Jack the Ripper area) and Eddie's house was in a row of what we would call real working class, in a tough area; but I loved these Eastenders, so down to earth (no snobs here) and friendly; we went in a pub in Commercial Road and old gals and real cockneys were "f-ing and blinding", laughing; just as normal conversation, but you couldn't take offence, it was natural for them!; Eddie's mum and dad, sister Rita and a friend were delighted to see me, and made me feel at home, with no frills or fancies; I loved these visits and became quite acquainted with the area and its atmosphere; I went into one pub on my own which was quite crowded and I was standing near the bar when everything went quiet; I looked around and I was on my own; then I heard someone outside shout "'e's got a bleeding knife!"; I looked in the large room length mirror which extended to the bar in another adjoining room and saw a man with a knife standing near another man; the penny dropped, I beat a hasty retreat outside where the crowd were; police had arrived and arrested the man; within minutes everyone was back inside the pub laughing and drinking as though nothing had happened; I reflected, I was the only silly bugger left in the pub bar the knife man and his adversary – phew!; however, that one incident was not reflective of these lovable people in general; we used to stay one or two nights at Eddie's on these visits , then really early next morning we were on our way back to Horsham, hoping we'd not been missed – the chances we took!

Back in camp things were much the same; used to love to get on fatigues (spud bashing etc), because we always used manage to scrounge a bit of extra nosh; I remember those big tins of jam and tea we made ourselves, laced with thick condensed milk with heaps of sugar; but who cared about your waistline then?; the grub I thought was good all through my "career"; perhaps it did vary a bit when cook was in a hurry or in a temper; I used to love the porridge (with salt and sugar) for breakfast; tinned, rolled bacon with thin paper to keep it separated; corned beef (dog?) in a Heinz variety of different disguises; no, to be fair Army grub was OK; got roped into a concert (by us, for us), I was the pianist; it was held in a large marquee with an improvised stage at one end; if you've ever heard a circus band, well you can imagine the acoustics here were not exactly enhancing!; however, it went off OK, was packed out; in my little part I played a few of dear old Vera Lynne's songs, and also accompanied all the other "artistes", some of whom would never have made it down the old "Robin Hood" at Raunds!; however, it was good fun and broke the pattern of Army life; we were here for quite a time and summer was approaching; the order to move came, this time to Bisley, a large permanent camp (where the King's Cup Rifle Competition is held); it is in fact the premier rifle shooting range in the country; so on to …………………

New from here on 10 February 2014:

Bisley (Top Rifle Firing Camp)

A small town just north-west of Horsham, the nearest town was Woking; large permanent camp with wooden chalets and small railway station inside the camp perimeter; extensive rifle ranges, so large that you could fire at maximum ranges; large clear area, where the regiment parked guns, lorries, equipment etc, all in position for immediate move off when order came; routine maintenance whilst there, but thankfully not too much guard duty or bullshit!; we were by now well aware why we were here, and what the next step would be; what we were not aware of was where and when , so we lived each day in a kind of "suspension"; we were told that whenever it came that our regiment would be there on the first day; to my secret relief I was one of the "gang" who, perhaps because of my age, was on the "rear party" who would bring supplies over a few days after the initial landing; it was obvious that only basic requirements could be taken on the first landing, this then was the situation we were in; wait and be ready; had a few lectures (about how to treat French people); was issued with a booklet concerning the latter which I still have; we did quite a lot of rifle firing here, and I must admit I did enjoy this because of the distances and size of the ranges; at maximum ranges, which were very large fields with no hedges, you could only just see the targets, and with a side wind of varying strengths, this did teach you aim offs etc; if I may indulge in a little bit of ego, I was a bloody good shot and the "brass" who were always "hanging around" commended me on this fact (sorry!); I had several spells in the butts, big ones with rows of targets, where we, on our own specific targets, had to hold the "stick" with a round marker on the end over the small hole where the bullet entered to denote whether "outer", "inner" or "bull's eye" etc; you had to watch carefully because at maximum range you heard the report seconds after the bullet entered, and also we were in a long row of targets.

Went to Woking a couple of times; this was as far at the time we were allowed to go; then came the order for the regiment to move, leaving us (the rear party) behind; we watched the convoy move off and we wondered what the hell the situation would be when we eventually rejoined them; the days passed by, we didn't know where they had gone, but rumour had it that they had gone to a large tented wooded area not far from Southampton, where troops were being massed ready for the "big show" – a favourite expression used the the top brass; we were very eager at the time to hear the BBC news, and then on June 6th 1944 the announcement came that the Allies had landed in France; D-Day!; although we were obviously very intent on the general situation, I must admit that our thoughts at this time turned to the lads, wondering how they were fairing in the grim situation; just days after came the night I shall not forget; I was on vehicle guard duty when, to my left, looking south, a most eerie, unreal "thing" was happening; low flying objects, almost in succession, with an awful engine noise, and a flame shooting out the backs, were heading towards London; it was a clear night and I wondered what the hell they were; as they got nearer to what I assumed was London, ack-ack bursts lit the sky, interspersed with larger flashes; by this time I had been joined by damn near all my mates and we were awestruck!; it was "eerie"; we gradually became aware that this was something unusual and we formed the opinion they were robots; we realised that they were when several came uncomfortably near us and one's engine cut out; seconds after there was an almighty blast; they were flying bombs!; Hitler's first launching of the V1's, and they were frightening; this went on all night and in the morning were The topic of conversation.

We were having dinner this next day, talking away, when this bloody horrible engine noise came right over us; everyone stopped talking at once; then the damn engine cut out; you could feel the tension in the mess, we were transfixed; you could not do anything; after just seconds of this deathly silence came the blast!; although it landed three hundred or more yards away, the blast broke windows and shook the building; we went to look at the crater, but there wasn't one, all the blast was outwards; and this, we realised later, was why these terrible weapons did so much damage with so much loss of life; they were later nicknames "doodlebugs"; much later in Belgium we were to have a spell at knocking some of these down on their route to Brussels; next day came the order to move, which was achieved quickly as only several lorries made up our complement; our driver was a bloke from London named Jim Pitt, a nice, genial sort of chap; we travelled a relatively short distance until we found ourselves in a wooded area, on either side of the not-too-wide roads were tents among the trees, also lining the roads were stacked shells waiting for collection; troops were everywhere, laying down outside tents, playing cards, mouth organs, walking back and forth from mess tents with billy cans, all waiting their time to go; we passed through miles of this kind of scene until an MP flagged us down and directed us off the road to our pitch; we were only a short distance from our embarking place – Southampton!

The Tented Area somewhere near Southampton

Oh, if only all army life was like this!; no bullshit, no parades (well only those to check you hadn't pissed off), absolutely marvellous grub, no guards, nothing to do except lounge about, eat, drink (tea), sleep, play cards; it was our last few days in England and they were letting us have a relax before the next phase, which we all knew wasn't going to be as restful; they told us we were here for a few days only, so that was it; we just sat on our arses and waited; as I have stated we only had one parade in the morning (for roll call) and a few of us did (on reflection) a damn stupid thing; we decided to "slip" home, immediately after the morning roll call, just for a few hours; there were quite a few of us took the risk; I got to London and on the Underground across to St Pancras; now St Pancras was the danger point, two MP's stood at the narrow gate just before you got onto the platform and they checked passes at random (not everyone's); knowing the ropes I waited until a few army blokes were going through, joined them and hoped for luck; my heart was in my mouth as I tried to appear as casual as I could; I made it, and boy the relief when I got on that rain!; I spent only a few hours at home with Ma, but it was worth it; then back I went; the return journey was no less "taut" but I arrived back at the camp where I had not been missed; I had a sneaking feeling that some of those MP's at St Pancras were not as bad a lot chaps as they were supposed to be; I reckon they turned a bit of a blind eye – Thanks Mates!

A couple of days passed and then came the order to move; this time we were in full battle orders and complete with all our gear; we piled on our respective lorries; as we neared Southampton the roads became jammed with lorries, equipment etc of other units and the going was a bit slow, but before long we were in Southampton Docks; there were MP's everywhere, marshalling convoys etc to their allotted "bay"; the docks were seething with men, noise, shouting instructions; we finally came to our allotted L.S.T.; there was line of these large "metal boxes" with the end ramps let down, gaping, "jaws" that revealed the tank-like huge interior ……………..

And so to Part Two – The Normandy Beach-head and beyond >>>>